___Photography___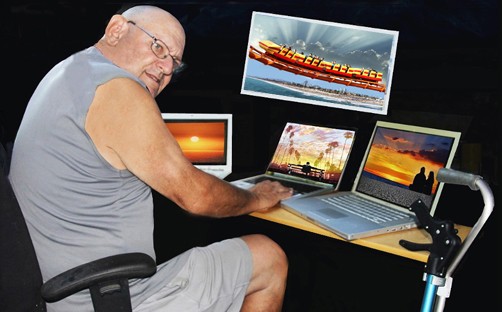 "I Create Art!"
The motivation to perfect innovative imagery is deeply-seated in experience. Sometimes life itself is not always ideal, so in an attempt to improve substandard-impressions, the recorded perspective is visually identified for it's original conception, uploaded digitally, pondered over and re-adjusted using graphic art tools until the final results are suitably adequate to include it in a collection of fine art photography. Only then, do we feel inspired and comfortable enough about the outcome to share with those who are fascinated by shared aesthetics as well.
That is . . . "Why I create Art!" – Richard Mann
This collection of film, digital recordings, and graphic arts stems from over 9,000 edited exposures spanning from 1959 to 2017. My preferential selections the "Contemporary" imagery are upgraded recorded formats that span from 1995 to 2018. I employ either: film, or digital applications and sometimes a combination of both genres' for innovative effects.
While either creating imagery or maintaining website development, I usually work with multiple-computer, flash and external drives, and iPhone, making it easier to simplify and project optimum-refinement.
To navigate and view individual portfolios please select from the following blue links below:
Fine Art Photography:
rvmann.com/section/291366-Conceptual-Im?
rvmann.com/section/291363-Documentary-I?
rvmann.com/section/405819-Infrared-Imag?
%Miscellaneous collection / Potpourri of imagery %
rvmann.com/section/440958-miscellaneous?
Graphic art:
rvmann.com/section/291376-Paintings.html
rvmann.com/section/291371-Drawings.html
Thanks for visiting